OCTOBER PROMOTION - 20% of Shiatsu, Deep tissue and Holistic Massage
REVIVE provides a range of therapeutic massage treatments, from addressing specific injuries and the results of stress to everyday well-being.
Whether you are looking simply for relaxation or relief from back, neck and shoulder problems, sports injury, low energy levels, stress or insomnia, Revive has something to offer you.
Choose from Shiatsu, Deep Tissue, Sports, Holistic and Swedish massage.
Massage is commonly used by people to:
• Unwind physically and mentally
• Ease muscular aches and pains
• Reduce stress and insomnia
• Reduce back, neck and shoulder problems
• Address sports injuries / training
• Relax and keep well in pregnancy
• Support sports performance
• Aid sport's injuries
• Relax
• Manage stress
• Life change
• Support during pregnancy


Please feel free to discuss which treatment may be best suited for your needs. Revive can also suggest alternative approaches and recommend practitioners if we think that they maybe more appropriate or beneficial.

These are just a few of the conditions and symptoms that the treatments on offer may be able to help with.
Treatments are available in Finsbury Park, Belsize Park, Hampstead, Stoke Newington, Tufnell Park, Crouch End, Highgate and beyond.
Please contact Revive on 07939 116565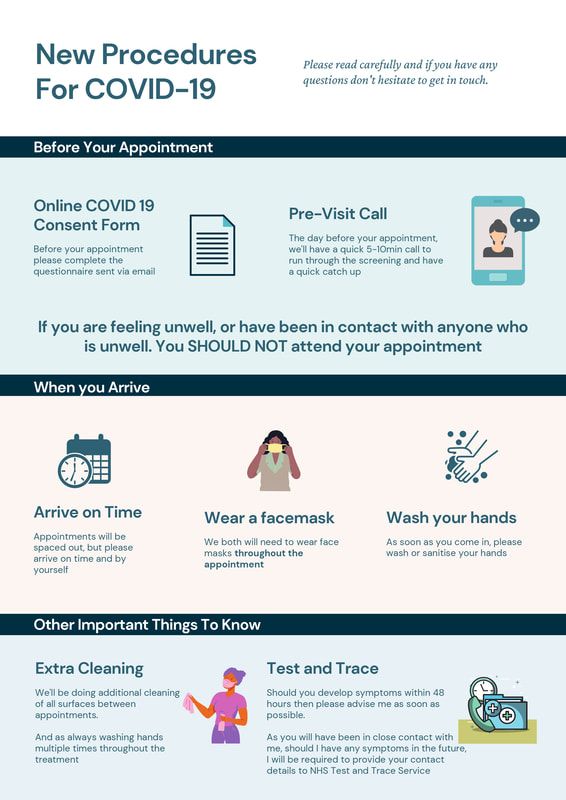 As you will be aware all public places have created ​new rules for visitors to follow for their safety and the safety of others. Please read through before attending the clinic. If you have any further questions, please let me know.
Social distancing
We will continue to maintain a two metre distance from each other when visiting the premises or clinic and through the consultation.The only exception to this is with your practitioner who will let you know when it is appropriate to approach under two metres and for how long. For social distancing reasons, unless you require assistance for specific support and care needs, we ask you to come alone for the appointment where possible unless a chaperone, parent or carer is required. Please leave accessory items (bags and coats) in the car, or travel with as little as possible. There will be a box in the room to store your belongings. This will be cleaned before each client arrives.
Before arrival
If you or someone you live with develops symptoms of Covid-19 by the time of the appointment, please contact me before attending the clinic.
Entering the clinic, we have spaced out client arrivals and departures so that all visitors to the clinic can remain socially distanced.
• You will receive a specific time for arrival. We would be grateful if you could enter the clinic at exactly that time.

Handwashing
Please sanitise or wash your hands immediately upon entering the premises. You will be directed to the appropriate facilities. There will be a poster nearby to demonstrate handwashing techniques recommended by the NHS. Please also sanitise or wash your hands before leaving the clinic.

Face mask and respiratory hygiene
We are recommending that clients wear ordinary surgical masks to the clinic. You may bring your own or ask your practitioner to provide one for you upon entering the premises or clinic.
If you need to sneeze or cough while in the clinic, please do so into a disposable tissue and throw it away immediately. Please wash your hands immediately after doing so.

Payments
We are also encouraging cashless payment where possible.